Website Design & SEO ::: Services We Can Offer You
WebsiteGenius - Our All-Inclusive Website Package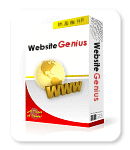 ¥110,000
Introducing our all-inclusive website package, with the perfect combination of custom-made design, ease-of-use and search engine efficiency. This website design package includes our fully-featured SEOGenius search engine optimization package, AdminGenius admin control system, free hosting services PLUS expert logo design!


Custom-made design, unique to your business
Website/company logo design
Full 20-page site
Mobile-friendly responsive design ?
Slideshow animations, stock photographs and images
Professional search engine optimization (natural or 'organic' SEO) more >>
Email response forms
English/Japanese bilingual website option
Free hosting for an entire year more >>
Free domain name - every year!
Easy-to-use content management system more >>
Full-service aftercare
24-Hour Support, 365 days a year
We offer complete customer satisfaction and the best search engine results in the business, at a price you can afford -
see our testimonials
!

Talk to Us NOW About Web Design >>