Website Portfolio
>
(Web Design ::: Kanagawa)
>
Bakumatsuya Antique Bookstore Website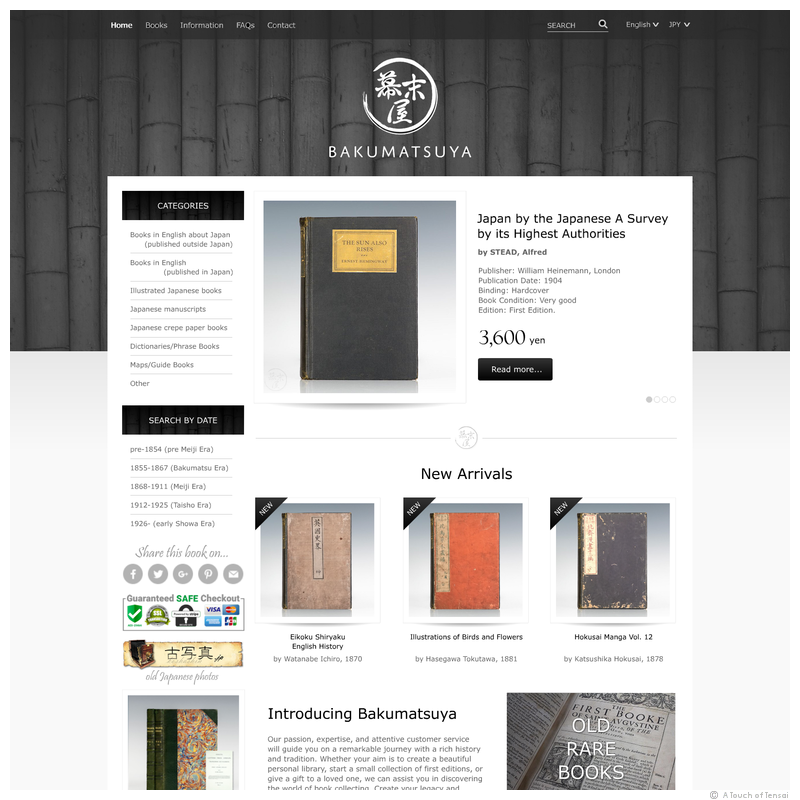 Ultrasimple monochrome design for this bilingual antique bookstore website. Blackened bamboo gives a stark, stylish feel to the design, with focus firmly on the extraordinary rare books.
URL:
https://www.bakumatsuya.com
SHOPPING CART
BILINGUAL
CONTENT MANAGEMENT SYSTEM
(Web Design ::: Kanagawa)
More images:
(Web Design ::: Kanagawa)

Talk to Us NOW About Web Design >>

Owner Testimonial:

My first impressions are that it looks really good and smart. I have a feeling you are getting better and better at what you do! It's going to be a great site and I wouldn't be surprised if other dealers in Japan or overseas see your link at the bottom and ask for help too!


Alex Byrne ::: Bakumatsuya Antique Bookstore Website

• NEXT: TK Namibia Tours Website >>



Website Design ::: Visitor's Choice
We want to know what YOU like!
Please click on your favourite website design, from the two sites shown below: