Website Portfolio
>
(Web Design ::: Kitakyushu)
>
Cave du Vin Tanaka Whisky Store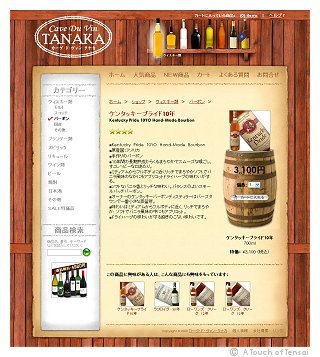 A warm and friendly design for this online retailer of imported whisky and liquors, to support an existing physical store. An animated flash logo shows the shop logo being branded into the woodwork, and another simple menu animation allows shoppers to quickly navigate between categories. Clean, uncluttered layout works well with the heavily-themed effect, to produce a modern 'aged' look.

SEO Results: Top-page search results for product names; approx #7 ranking on Google.
SHOPPING CART
CONTENT MANAGEMENT SYSTEM
FLASH
(Web Design ::: Kitakyushu)
(Web Design ::: Kitakyushu)

Talk to Us NOW About Web Design >>
• NEXT:
Kent Florist Website >>

Website Design ::: Visitor's Choice
We want to know what YOU like!
Please click on your favourite website design, from the two sites shown below: