Website Portfolio
>
(Web Design ::: Yokohama)
>
Yokohama Ballet Website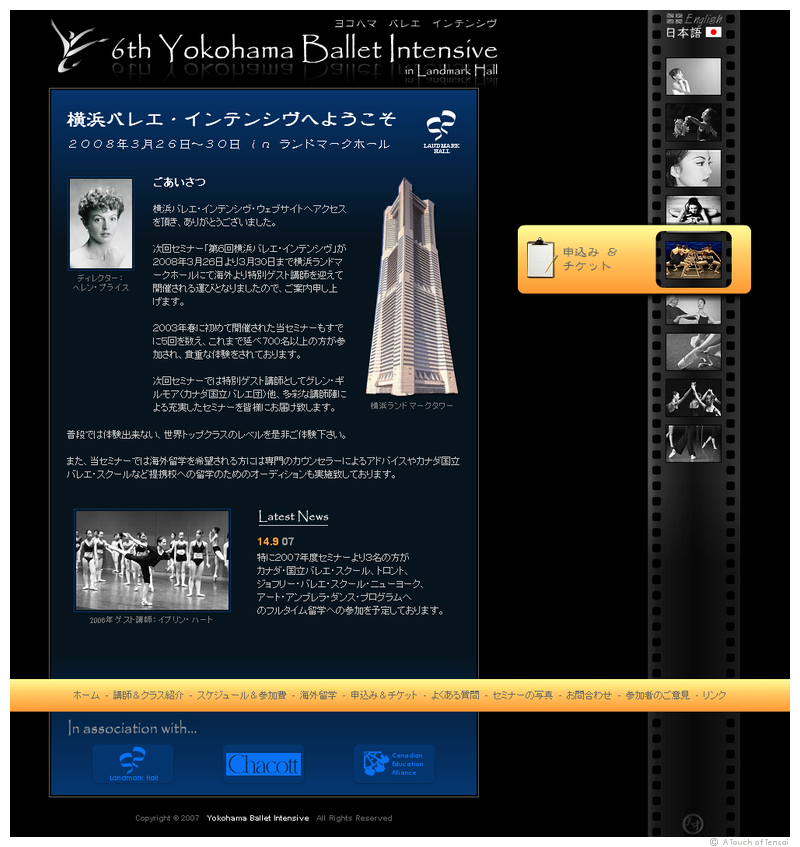 Design keywords for this prestigious ballet seminar website were 'professional', 'contemporary' and 'athletic ballet'. So we used restrained dark blues and blacks, with only minimal cream accents, and stylish reflection effects. The site features a large animated navigation menu, which contains plenty of seminar photographs, in addition to a dedicated owner-controlled flash-animated photo gallery page.
URL:
http://www.yokohamaballet.com
BILINGUAL
CONTENT MANAGEMENT SYSTEM
FLASH
PHP
(Web Design ::: Yokohama)
(Web Design ::: Yokohama)

Talk to Us NOW About Web Design >>

Owner Testimonial:

Thank you so much for your help this year!! The applications for my seminar are double what they were this time last year.


H. Price ::: Yokohama Ballet Website

• NEXT: Myer Japan English School >>



Website Design ::: Visitor's Choice
We want to know what YOU like!
Please click on your favourite website design, from the two sites shown below: