Interior Design Portfolio
>
(Interior Design ::: Beppu)
>
Ringtail Medieval Event Room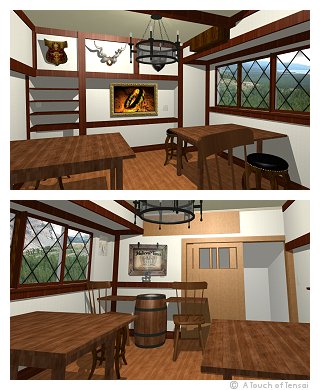 This city-centre hobby shop had previously commissioned a logo design and an online web shop from us, and the new business continued to go from strength to strength. So much so that they asked us for a medieval-themed event space to go above their store premises.

Working within a tight budget (approx 100,000 yen / 1,000 USD), we added oak-effect beams to the walls, fake window leading, decorative trophies and shields, custom-made wooden furniture and a sink unit disguised inside an old oak barrel.

Modern requirements are concealed as much as possible, so wiring and sound speakers are hidden inside ceiling beams, and a large flatscreen TV is disguised by an ornate gilt frame. Truly an event space to be proud of!


CONCEPT DRAWINGS

ARCHITECTURAL PLANS

CONSTRUCTION

(Interior Design ::: Beppu)


More images:

(Interior Design ::: Beppu)

Talk to Us NOW About Interior Design >>

Owner Testimonial:

Wow! I'm already in love with it! Thank you, thank you. I think we can produce a fantastic looking room, just using these illustrations alone!


Y.Miyao ::: Ringtail Medieval Event Room

• NEXT: Monochrome Kitchen >>