A TOUCH OF TENSAI
Tel: 093-981-1425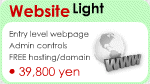 Website Design & SEO
We produce fully-themed internet websites for small-to-medium sized companies and private individuals. The personal service we provide for each one of our clients produces a totally unique homepage, themed to their particular tastes and business market.





Totally Unique Websites
Flash animations & Custom Graphics
Programming & Databases





Website Design & SEO ::: Services We Offer
SEO Search Engine Optimization

How are people going to find your new website? Well, over 80% are probably going to find you through search engines such as Google and Yahoo. Of course, if your new website doesn't show up on the first page of results, then most of your potential clients will never even see it!

At A Touch of Tensai we offer expert search engine optimization (SEO) with all our website packages, to get your site ranked at the top of search engines. We research your business needs and products to determine the best keywords and phrases for your site, and then work within strict ethical guidelines to fully optimize your website.

Does it really work?... Yes. 1st page ranking on search engine results.




FREE with every website!
*¥50,000 when sold separately


1st Page Results for A Touch of Tensai:

web design Fukuoka #1
website design Kitakyushu #1
web design Tokyo
SEO Kitakyushu
signboard design
(as of 2011)

design Kitakyushu #1
web design Yokohama #1
SEO Fukuoka
web design Kanagawa
Japanese logo


web design Osaka #1
design Fukuoka #1
Japan logo
web design Shizuoka
web Kitakyushu



Our clients' websites have enjoyed similar successes:


Kanmon-Auto,
currently ranked
#2 of 318,000 for
"Japanese used motorcycles"

#2
BellyQueen,
currently ranked
#2 of 74,900 for
"Tokyo belly dance school"

#2
Yokohama Ballet,
currently ranked
#1 of 105,000 for
"ballet dance Yokohama"

#1

Please see the Japanese version of this page for Japanese-language SEO examples.

Contact us about website SEO >>

Admin Control Systems - AdminGenius

AdminGenius contains all of the most common administrative features requested by you, the site owners, and a whole lot more...

Full control over your site's SEO keywords and metatags
Full control over your site's page contents and text
Options to upload and insert images, videos and animation
Statistics on site visitors

All provided FREE with every standard website package - you'll never have to pay maintenance fees again!

Contact us about admin control systems >>

FREE with every website!
*¥40,000 when sold separately

Try the Demo



Link Directory System - LinkGenius

LinkGenius is a comprehensive links directory system, allowing you to trade links with other related websites and market your own site better...

Full control to add and update links freely
Upload link banners
Including a selection of banners for your own site
'Add your Site' mailform for visitors

All provided FREE with every standard website package!

Contact us about link directory systems >>

FREE with every website!
*¥30,000 when sold separately


Latest News System - NewsGenius

NewsGenius is the simplest way to keep your site looking fresh and up-to-date. Add the latest news to your front page in a matter of seconds...

Super-easy controls to add the latest news
Photo uploads for greater impact
Options for popups or full page stories

All provided FREE with every standard website package!

Contact us about latest news systems >>

FREE with every website!
*¥20,000 when sold separately


Online Events System - CalendarGenius

Display opening dates at a glance in a neat calendar format, and show your customers what's coming soon. This calendar system combines controls for online bookings and reservations, with up to the minute info ...

Easy-view monthly calendar display format
Full admin controls to present it how you want
Popups and new pages for in-depth details
Photo uploads for greater impact
Integrated systems for taking bookings and reservations

Whatever kind of system you need, CalendarGenius can handle it!

Contact us about online calendar/booking/reservation systems >>

¥30,000


Web Hosting & Domain Names

We are happy to announce that we now offer website hosting and domain names as part of our standard website design package:

Your first year completely FREE!
One .com/.net/.info domain name FREE - EVERY YEAR!
Only ¥10,000 for an entire year - that's about 820 yen per month!
Unlimited e-mail accounts
Web-based email access
5 GB storage
40 GB monthly bandwidth
Unlimited MySQL databases

Contact us about web hosting >>

One year FREE with every website!
* normally ¥10,000


What makes A Touch of Tensai so special?
| | |
| --- | --- |
| | Value for Money ::: We can guarantee you won't find a professional website design company anywhere else in Japan this cheap! Profit is not our main priority - we honestly just love to make things, and for those things to be appreciated. |
| | Personal Service ::: We treat each customer as unique. Nobody knows your business like you do, but we take the time to try and match your enthusiasm for your new project. After the project's finished, not only do you have a great website, but you also have our continued support for years to come. |
| | 100% Original ::: We strive to push our limits and expertise. For every new project we aim to give you a totally unique product. Our work would be very dull indeed, if we simply re-hashed the same thing every time. You wouldn't want that, and neither do we! |
BEST 10
TESTIMONIAL

Thank you so much for your help this year!! The applications for my seminar are double what they were this time last year.


-- H. Price
Yokohama Ballet